Onsite Car Battery Replacement Service in 3 Steps
Introducing Our 24Hrs Car Battery Replacement and Car Battery Services
Have you ever encountered such a problem when you try to start your car? You hear the sound of the engine crank but the car does not start. This is a sign that your car battery is weak and you require a Car Battery Replacement Service. So what do you do now that you are stuck with a flat car battery and that your car refuses to start? Good guess! With The Doctor Battery (TDB) around, you no longer have to worry or feel frustrated because we offer 24Hrs Car Battery Replacement service. Fortunately, we will come to wherever you are and have your old car battery replaced. With only 3 Quick simple steps to engage our services, you will no longer panic about having a flat car battery ever.
The Doctor Battery has more than 5 years of experience, saving thousands of vehicles in Singapore. In addition to this, all our mechanics are certified and we guarantee to deliver the best customer service. Our service extends its service area to all parts of Singapore. We are drivers ourselves and we can understand the frustration of our customers dealing with a flat car battery. Therefore, trust The Doctor Battery, the leading car battery experts in assisting you.
3 Step Car Battery Service Process
Step 1 – Call Our 24/7 Emergency Hotline 8383 9933
It's really easy to engage our services, all you have to do is call 8383 9933 and tell us your emergency.
Step 2 – Share Us Your Current Location
With current advanced technology all it takes is a press of a button 'Send Location' with the widely used WhatsApp app. Alternatively, you could also drop us an SMS of your current location and details (car plate number, car model/make) of your vehicle.
Step 3 – Get Help
Be sure to have your vehicle parked somewhere safe and stay in your vehicle if you happen to be on the expressway or the roads. We try our best to ensure arrival at your location 30 mins upon your call. Replace your car battery fast when you choose The Doctor Battery.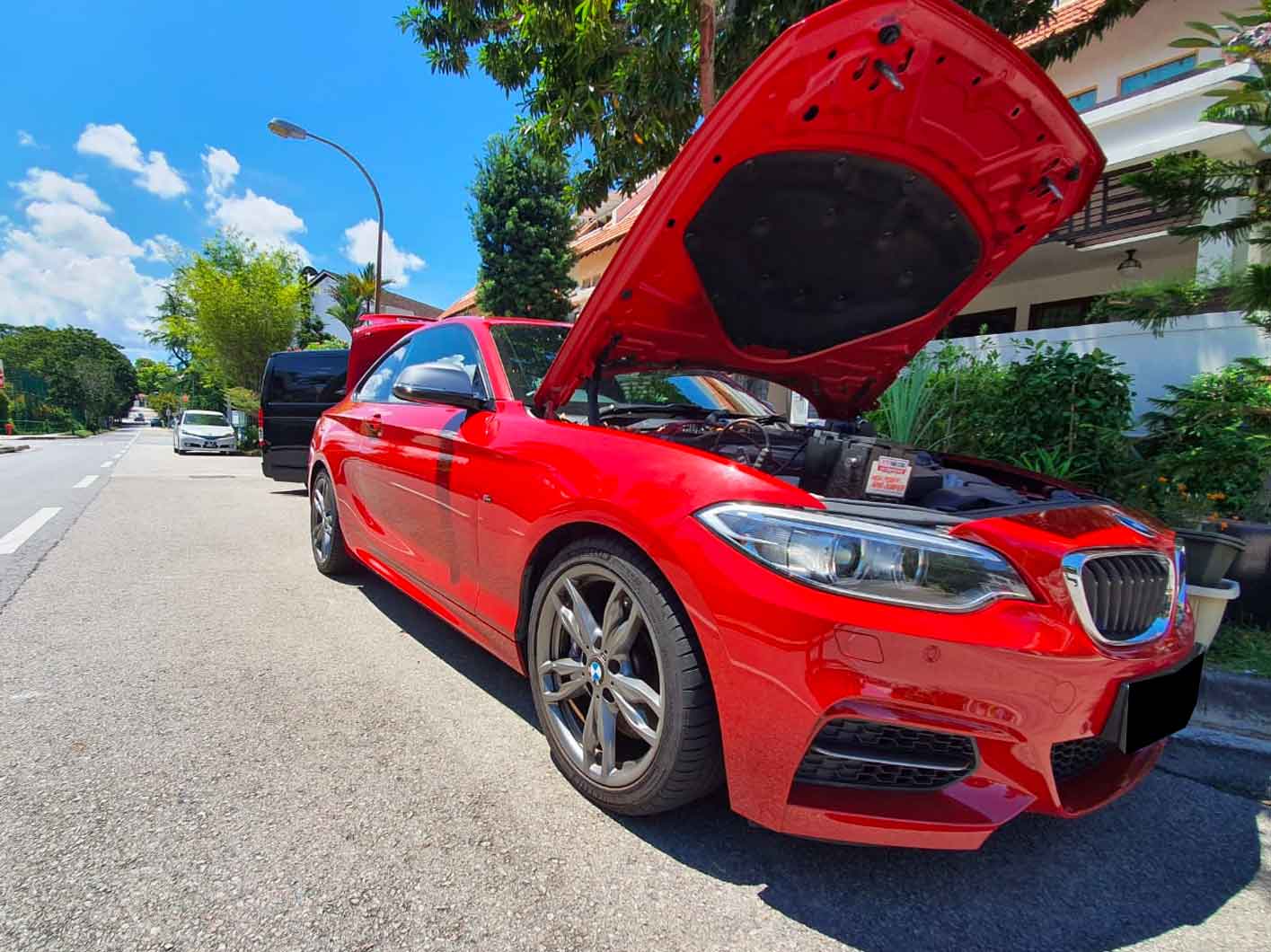 Why Choose Our Car Battery Replacement Service?
An Automotive Battery or also more commonly known as your car battery has an average life span of 1.5 to 2 years. This is mostly due to the hot and humid climate in Singapore and it is rare occurrence that car batteries last more than it is expected. While a car battery may fail due to several reasons such as a faulty alternator, one main factor is the age of the battery and its applications.
Many of us know how encountering flat car battery can be inconvenient. However we no longer have to worry as being stranded is a thing of the past with The Doctor Battery's Top rated Car Battery Service in Singapore. TDB is quick with their responses to customer calls and swift on arrival providing 24/7 Roadside Assistance. Our experience mechanics are well trained and equipped to find the problem and provide you with a solution on the spot. Additionally, drive with no worries as your battery is covered with 1 Year Warranty*, when you choose our 24Hr Car Battery Replacement Service.
When will you need to replace car battery?
5 Tell tale signs your car battery is weak and is about to fail:
Dimmer or flickering headlights
Softer than usual sounding horn
Engine hesitant to crank
An old car battery (2 Years more)
Corroded car battery terminals
If you experience any of these signs, then you probably should have your car battery checked by us. Get a free quote with no obligations, let us help you and call us today!
Apart from our Car Battery Services
You can always count on The Doctor Battery, we are here to provide 24/7 roadside assistance to assist car breakdowns all around Singapore.
Also, our comprehensive roadside assistance services includes, car battery jumpstart, car tyre repair, car towing and more…
Also Rated Best Roadside Assistance in Singapore
We are proud and can't be happier to be rated the Best Roadside Assistance provider in 2021.
Our Car Battery Replacement Service Rescues
The Doctor Battery takes pride in all their efforts to rescue vehicles of all brands and make. Additionally, we provide top-notch customer service, arriving quickly to change car battery at your location. Therefore, we are notably the #1 Roadside Assistance provider in Singapore.
Our Selected Car Battery Brands

Our Car Battery Mechanics Located Islandwide