Introducing Our 24Hr Car Tyre Repair Service
What are the odds of driving a car without ever encountering a punctured tyre? It's almost inevitable because your car tyre comes in contact with the roads which might carry unexpected sharp objects. However if you ever encounter a flat car tyre and in times of emergency like this, what could you do? This is why our Car Tyre Repair Service comes in handy.
I'm sure many of you may have found a nail on your flat tyre at least once in your lives. You're lucky if it's a surface puncture where you could just pull the nail out and get away with it. Unlike larger sharp objects which might cause a significantly quick air leak out of the tyres, a car tyre repair service in necessary.
Our 24Hr Car Tyre Repair Service Process
Step 1 – Call Our 24/7 Emergency Hotline 8383 9933
It's really easy to engage our car tyre repair services, all you have to do is call 8383 9933 and tell us your emergency.
Step 2 – Share Us Your Current Location
With current advanced technology all it takes is a press of a button 'Send Location' with the widely used WhatsApp app. Alternatively, you could also drop us an SMS of your current location and details (car plate number, car model/make) of your vehicle.
Step 3 – Get Help
Be sure to have your vehicle parked somewhere safe and stay in your vehicle if you happen to be on the expressway or the roads. We try our best to ensure arrival at your location 30 mins upon your call. Get your car tyre repair fast when you choose The Doctor Battery.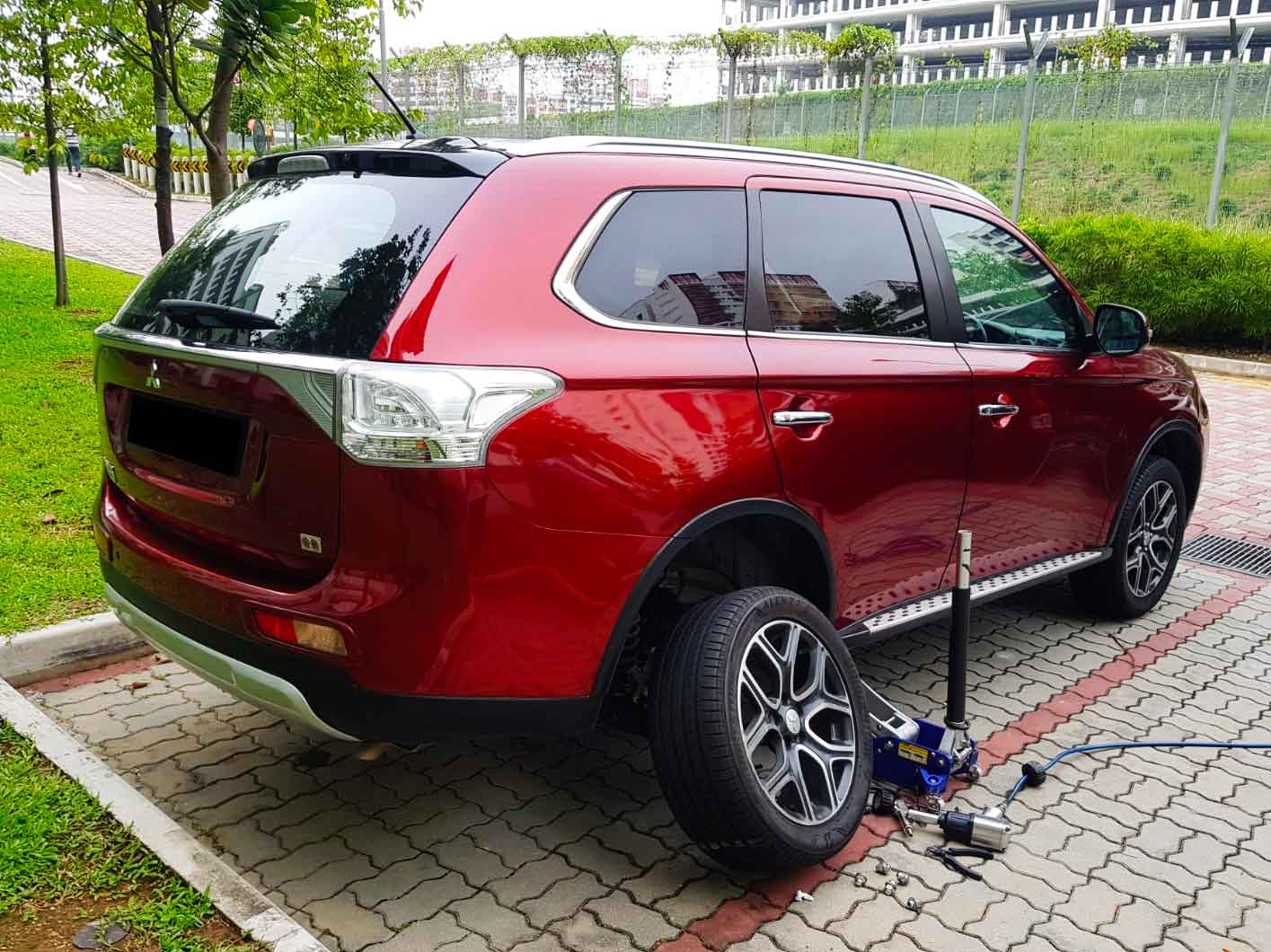 Why Choose Our Car Tyre Repair Service?
Our mechanics will arrive at your destination promptly ready to assist you so you never have to arrange for towing to your car workshop. Be it the holidays, at home or at work, you may schedule with us to help get you back on the road 24/7 everyday. Our service is not only inexpensive but also very convenient, we bring the tyre shop to you.
When is tyre repair necessary?
More often than not a tyre puncture can be repaired and do not need to be replaced. If the puncture is not serious you can get away with our car tyre repair service.
However, it's not difficult to know if your tyres can be repaired following these pointers as a quick guide.
Car tyre repair is possible if:
Puncture is only on the tyre tread
Puncture damage is no bigger than 6mm
Mechanic equipped with right tools to carry out tyre repair
It's recommended to replace your tyres if:
Puncture damage is bigger than 6mm
Puncture occurs on the sidewalls of tyre
Tread depth is below recommended of 1.6mm
Our Selected Car Tyre Brands